Mark Kennedy's infiltration of environmental circles as 'Mark Stone' began in 2003 and lasted six years, known as Operation Pegasus.[1]Ratcliffe-on-Soar Power Station (Operation Aeroscope) Disclosure: Final Report, Independent Police Complaints Commission, March 2012. Though he was active across the UK, for most of that period he was based in Nottingham where he lived in an area many environmentalists had moved to.
Kennedy, a Metropolitan Police officer, had been seconded to the National Public Order Intelligence Unit (NPOIU), which ran undercovers in protest movements across the UK. Initially the NPOIU was an independent unit overseen by the Association of Chief Police Officers' Terrorism and Allied Matters Committee (ACPO TAM), affiliated to Special Branch. In 2006, the NPOIU was merged into the National Domestic Extremism Unit (NDEU), led by Assistant Chief Constable Anton Setchell, the National Co-ordinator for Domestic Extremism.[2]For details and references see Undercover Research Group, National Domestic Extremism Unit, Powerbase.info, 2017.
Under the Regulation of Investigatory Powers Act 2000, authorisation of an undercover deployment was required to be done at Assistant Chief Constable level, and Setchell was of the appropriate rank.[3]Authorised Professional Practice: Undercover Policing: Authorisation, College of Policing, 19 August 2015 (accessed 5 July 2017). However, as ACPO was a private company to which police were seconded, further authorisation appears to have also been required for specific deployments from relevant police of appropriate rank – in this case an Assistant Chief Constable for Nottinghamshire.
On 5 November 2008, ACC Ian Ackerley of Nottinghamshire met with an unnamed Detective Chief Inspector from the NPOIU (referred to in documentation as the 'NPOIU DCI') to discuss Kennedy's deployment against 'domestic extremist' groups.[4]Domestic Extremism is a term without formal legal definition, but commonally used by UK police to describe the 'activity of groups or individuals who commit or plan serious criminal activity motivated by a political or ideological viewpoint' For more information on the terms see Undercover Research Groups, Domestic Extremism, powerbase.info, 2015. At this meeting an application for Kennedy's participation in minor criminal activity as an undercover officer was discussed and Ackerley, an appropriate ranked officer for Nottinghamshire Police, authorised the application.[5]Ratcliffe-on-Soar Power Station (Operation Aeroscope) Disclosure: Final Report, Independent Police Complaints Commission, March 2012.
Sir Christopher Rose in his report described the NPOIU DCI as the head of the Confidential Intelligence Unit – the sub-unit within the NPOIU that oversaw the undercover police officers. He also notes that the cancellation of Kennedy's authorisation took place on 10 February 2010, and that throughout this period Ackerley was the authorising officer for Kennedy's deployment under Op. Pegasus.[6]Sir Christopher Rose, Ratcliffe-on-Soar Power Station Protest: Inquiry into Disclosure, Crown Prosecution Service, December 2011.
Rose explicitly stated that:[7]Sir Christopher Rose, Ratcliffe-on-Soar Power Station Protest: Inquiry into Disclosure, Crown Prosecution Service, December 2011.
… the route for intelligence gathered by Kennedy was via NPOIU to Nottingham [Special Branch] and then to ACC Ackerley.
Nottinghamshire Police structure
For the period in question, Nottingham Police's senior officers comprised of the Chief Constable, the Deputy Chief Constable, the Assistant Chief Constable (Crime) and the Assistant Chief Constable (Operational Support). Initially the ACC (Crime) had responsibility for territorial policing as well, but at some point this was transferred to ACC (Operational Support) which was renamed ACC (Territorial). Thus, by the time of Operation Aeroscope (2009/2010) Nottinghamshire had returned to the classic division between uniformed policing and detectives (CID). As such, ACC (Territorial) would include public order among their responsibilities, while ACC (Crime) would include intelligence gathering.
Immediately under each Assistant Chief Constable is a set of Chief Superintendents. For ACC (Territorial), these included the divisional commanders for the different policing areas. During the period concerned Ratcliffe-on-Soar was in the South Notts Division, also known as 'D' Division, then under Chief Superintendent John Busuttil.[8]Nottinghamshire Police reorganized territorial policing divisions in April 2011.
Under ACC (Crime) were several directorates headed by Detective Chief Superintendents (DCS) with two of particular importance for Aeroscope: the Directorate of Crime, headed by DCS Neil James, and the Directorate of Intelligence under by DCS Ian Waterfield – both men had held these positions since 2006. Within the Directorate of Intelligence sat Nottinghamshire Special Branch, headed by Detective Inspector Andy Bateman.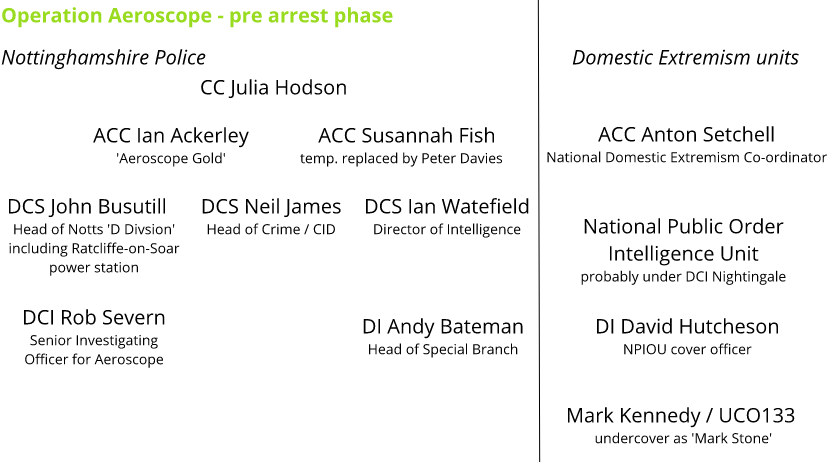 From 2003, the Assistant Chief Constable (Crime) was Susannah Fish. However, in 2009 she was seconded to the Home Office, and her place was taken up on a temporary basis by Peter Davies from Lincolnshire Police. In September 2006, Ian Ackerley took over from Peter Ditchett as Assistant Chief Constable (Operational Support / Territorial). Fish's secondment meant that Ackerley was effectively the senior officer of ACC rank at the time of Operation Aeroscope.
It is unknown the extent to which the true identity of 'Mark Stone' was known to Nottinghamshire Police. However, given the stated route of intelligence flow, and the duration for which he was based in Nottingham it is likely that Nottinghamshire Special Branch were aware of 'Mark Stone's real identity as an undercover, and that other operations in Nottinghamshire had also previously been authorised. Even if they were not aware of his exact identity, the evidence from the Ratcliffe disclosure demonstrates a working knowledge of an NPIOU undercover based in Nottingham's strong environmentalist milieu.
Given the chain of command was
Nottingham Special Branch → Directorate of Intelligence → ACC (Crime)
it is probable that ACC Susannah Fish and Det. Ch. Supt. Ian Waterfield were also aware there was an NPOIU undercover among the environmentalists in the city and again, very likely his actual cover identity.