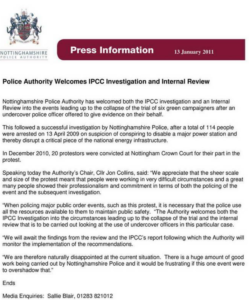 With the collapse of the 'deniers' case in January 2011, a media storm followed. The NPOIU was stripped of operational powers the same month.[1]Alan Travis, Paul Lewis & Martin Wainwright, Clean-up of covert policing ordered after Mark Kennedy revelations, The Guardian, 18 January 2011 (accessed 5 July 2017). The Director of Public Prosecutions, Kier Starmer, commissioned Clare Montgomery, QC to investigate also.[2]Ratcliffe-on-Soar campaigners' cases reviewed by CPS, BBC News Online, 28 January 2011 (accessed 21 July 2017). On the basis of her report, he invited the 'justifiers' to appeal.[3]Dominic Casciani, Top prosecutor tells power station protesters to appeal, BBC News Online, 18 April 2011 (accessed 5 July 2017).[4]Paul Lewis & Rob Evans, DPP urges convicted power station protesters to appeal, The Guardian, 18 April 2011 (accessed 5 July 2017).[5]DPP invites Defence to appeal convictions of Ratcliffe on Soar protestors, Crown Prosecution Service, 18 April 2011 (accessed 21 July 2017).
On 20 July 2011 those convictions were overturned in the Appeals Court on grounds of 'non-disclosure to the defence of sensitive material in the prosecution's possession relating to the role and activities of Mark Kennedy'.[6]Sir Christopher Rose, Ratcliffe-on-Soar Power Station Protest: Inquiry into Disclosure, Crown Prosecution Service, December 2011. The Lord Chief Justice, Lord Judge, said Kennedy had been 'arguably an agent provocateur,' and:[7]Judges criticise Ratcliffe prosecution non-disclosure, BBC News, 20 July 2011.
[T]he appellants were convicted following a trial in which elementary principles which underpin the fairness of our trial processes were ignore.
A number of reports were initiated to see where the fault lay. These included several by the Crown Prosecution Service and one by the Independent Police Complaints Commission (at the request of Nottinghamshire Police themselves). Much of this focused on the interaction between the CPS and the police. A review of these is provided in the appendix. The HM Inspectorate of Constabulary began their first ever thematic review of undercover policing,[8]A review of national police units which provide intelligence on criminality associated with protest, HM Inspectorate of Constabulary, 2012. This report was followed up by several more from HMIC focusing on undercover policing in general. initiating many changes in the way undercover policing was used and conducted. It noted a Home Office circular of 1969 in relation to what is now known as covert human intelligence sources:
The police must never commit themselves to a course which, whether to protect an informant or otherwise, will constrain them to mislead a court in subsequent proceedings. This must always be regarded as a prime consideration when deciding whether, and in what manner, an informant may be used and how far, if at all, he is allowed to take part in an offense. If his use in the way envisaged will, or is likely to result in its being impossible to protect him without subsequently misleading the court, that must be regarded as a decisive reason for his not being so used or not being protected.
However, in relation to Aeroscope specifically, the report of Sir Christopher Rose for the CPS placed much blame on Ian Cunningham saying (para 45):[9]Dominic Howell, Police under fire over collapse of eco-protest trial, Nottingham Evening Post, 7 December 2011 (accessed 28 August 2016).
[he] must bear the primary responsibility for non-disclosure to the defence….. [he] relied too heavily on what he was told by the police in relation to the undercover officer and failed to probe what material there was in relation to the undercover officer's activities
Overall, Rose failed to blame anyone in particular, but pointed to a series of failures (para. 42):
The principal reasons for that failure were that those police officers with knowledge of the detail of the authorisation of Kennedy's involvement were anxious to limit the dissemination of that knowledge in order to protect the source and those (in particular the senior investigating officer [Pearson] and Mr Cunningham) who should have received the information failed to ask pertinent questions in order to obtain it.
He also wrote (para. 53 (5)):
The failures were not systemic and not due to any want of printed guidance. All involved were well aware, or should have been if relevant guidances had been consulted, of what they needed to do to comply with the [Criminal Procedure and Investigations Act] obligations.
The IPCC did not deviate from Rose's conclusions, stating it was a collective failure by a number of parties, and individual actions did not amount to misconduct.[10]Ratcliffe-on-Soar Power Station (Operation Aeroscope) Disclosure: Final Report, Independent Police Complaints Commission, March 2012.